Innovative digital printing solutiona and workflow software help you get more from your production printer.
Fiery Digital Front Ends
Fiery servers and workflow solutions provide industry-leading performance, color accuracy, usability, and integration that improve the quality and efficiency of digital printing — and allow you to profitably provide a wider range of print services (Fiery NX servers │Fiery NX Station GL │ Fiery NX Station LS).
Fiery Workflow Suite
The Fiery Workflow Suite products expand the power of Fiery servers, providing solutions for every stage in the print production process. The modular products broaden the server functionality for more advanced color management, automation, job preparation, and integration.
Job Submission Make it easier for customers to send jobs, and for operators to submit those jobs to the print engine with the correct specifications (EFI Digital StoreFront Web-to-Print).
Prepress Streamline and automate print workflows to ensure the integrity of jobs before going to print, and reduce errors and waste (Fiery JobFlow | Fiery Graphic Arts Package, Premium Edition | Fiery Productivity Package).
Make Ready Integrate labor-intensive document preparation activities under one visual interface (Fiery Impose | Fiery Compose | Fiery JobMaster).
Variable Data Printing Produce new high-margin VDP services that get you and your customers noticed (Fiery VDP Solutions).
Fiery Color Management Guarantee accurate, consistent and reliable color reproduction at all times (Fiery Color and Imaging | Fiery Color Profiler Suite | EFI Spectrophotometers | Fiery Spot-On™ | Fiery Image Enhance Visual Editor | Pantone® Libraries).
Output Management Improve digital print production capacity, turnaround and productivity by centralizing control of print job management across multiple production systems (Fiery Central).
Processing Fiery servers are industry-leading digital front ends (DFEs) that drive a full range of digital print engines across all printing environments. Fiery DFEs deliver outstanding performance, intuitive operation and automation, plus produce perfect color every time (Fiery Servers).
Business Management Successful printing businesses consistently identify one overwhelming factor in their success – solid, end-to-end control of their operation. EFI's Print MIS/ERP solutions provide this control, collecting, organizing and presenting information in a format that improves communication, speeds production, reduces errors, and boosts throughput (EFI Productivity Suites).
Fiery Print Job Management
A powerful tool to prepare and manage jobs more efficiently for higher production throughput. This software centralizes job management, connects to all Fiery cutsheet servers on the network and improve results for increased productivity (Fiery Command WorkStation).
Fiery Drivers
The Fiery driver provides a customizable interface for users in office environments to submit jobs to a Fiery server. Users enjoy consistent Job Properties use and functionality across Windows and Mac operating systems.
More on Production Print
EBP's Production Print offerings include other hardware and solutions: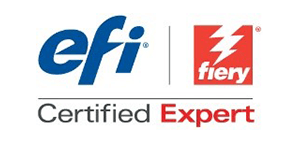 ​
---
To discuss how any of our equipment or solutions can benefit your business,