Let EBP Fine-Tune Your Printing Practices
Whether you have a large or small fleet of copiers, faxes and/or printers, EBP can help manage all aspects of maintaining this investment. Our experienced team will tie world class service together with people, hardware and software to help reduce costs and increase your organization's productivity.
In addition to our Office Systems and Production Print hardware and solutions, EBP offers a selection of Fleet Management services.
With EBP's Fleet Assessment, you can see exactly how printers are used in your company and how much that usage costs you. We'll also help you spot security vulnerabilities and give you recommendations for improvement.
EBP has extensive experience dealing with large printer fleets. We've worked with clients with hundreds of devices spread out across numerous locations. Learn more about our ability to handle large deployments here.
EBP's team can keep watch over activity on your systems so you can concentrate on business. We can give you information on:
Who uses your printers and what they print
Potentially inappropriate usage
Problems involving document security
Low supply levels that require attention
When your equipment breaks down, you can't waste time getting them fixed. EBP's Onsite Support service quickly, effectively and on the first call.
EBP's decades of doing business has taught us the importance of thinking and planning ahead. That's why we don't just concentrate on meeting the current needs of your business; we work hard to help you improve your operations on an ongoing basis.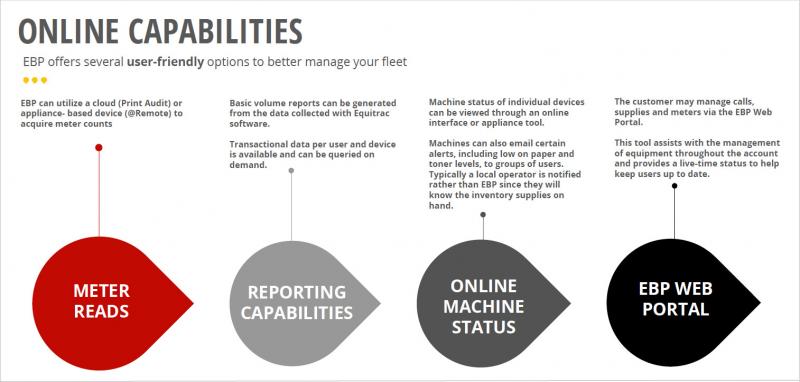 ---
To discuss how any of our systems, solutions and services can benefit you,