Clean, Safe, Touchless  Workplace Hydration
Our patented technologies coupled with a six-stage Reverse Osmosis system, stainless steel holding tank and Activated Oxygen Injection, delivers glass after glass of fresh, healthy PURE water! Now you can eliminate the environmental impact and cross-contamination risks of bottled water systems and start enjoying safer, fresher and better tasting drinking water. All Pure Water Technology Systems feature Bio Protection Dispense Ports for worry-free dispensing.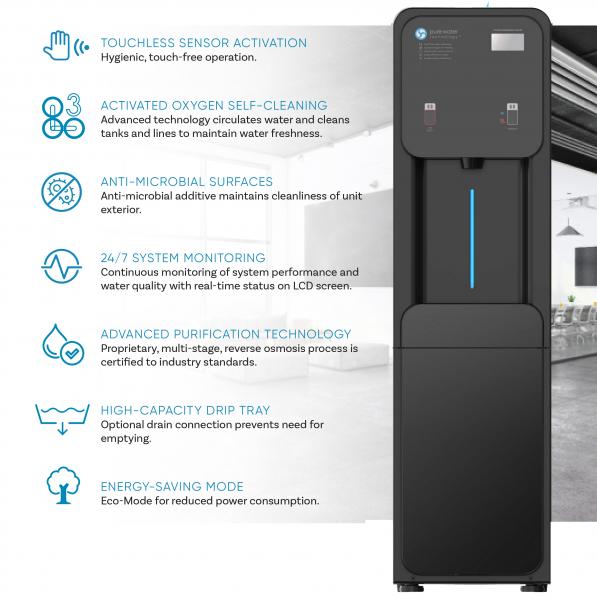 Our systems send unfiltered water through a thorough, multi-step purification process:
The water goes through a sediment filter, which removes all dirt, rust, and silt.
Next, the water passes through a carbon block filter, which removes chemicals, solvents, and chlorine traces.
A 1-micron filter then removes any lead and cysts from the water.
A granular activated carbon filter "polishes" the water for great taste.
Our "Boost" filter adds alkalinity, minerals and electrolytes.
Finally, the water gets injected with activated oxygen, which enhances its taste while eliminating bacteria, viruses, and parasites.
Auto Tank Sanitization (ATS)
EBP's pure water systems use special ATS technology, which saves you the time and trouble of sanitizing the water's holding tank.
Anti-Microbial Touchpad & Surfaces
Our systems are made from tested, trademarked anti-microbial material. This will prevent cross-contamination of germs in your workplace.
24/7 System Monitoring
EBP's pure water systems contain microprocessors that monitor and regulate oxygen levels, filter conditions, and water quality 24 hours a day.
Free 1-Week Trial
Sign up for our free, no-obligation trial and taste the difference for yourself!
Benefits of Pure Water Systems
When you use our systems, you get:
Pure cold or hot water whenever you and your employees want it
No more time wasted waiting for water bottles
No spills or other disruptions to your workday
A healthier, more environmentally responsible workplace
Download Brochures
Other Office Systems
EBP has a diverse range of Office Systems to improve your operations:
---
To discuss how any of our systems and solutions can improve your workplace,