Global Products, Local Service
By combining the resources of a $20 billion global technology leader with the consideration and convenience that only a local business can deliver, EBP gives you the best of both worlds. We are proud to offer products from Ricoh, one of the most respected names in Office Systems and Document Solutions. When you come to us, you get superior technology and support from a family-owned, locally operated company.
EBP's Core Values
For nearly 40 years, EBP has adapted to advances in the document management industry by staying true to three core values:
Providing the highest quality products, services and support
Developing and maintaining long-term employee, partner and customer relationships
Exceeding the expectations to better service the needs of our customers
Partnering with Ricoh and other industry leaders allows us to offer you the best products. We've built and cultivated an expert staff with more than 600 years of combined experience in our field and in-depth knowledge of the local market. Last but not least, we empower our various teams--administrative, sales, service, support--and hold them to the highest standards. We're committed to minimizing equipment downtime and resolving concerns and issues as quickly as possible.
When you combine the best products with the best team and the highest standards, you get the EBP difference.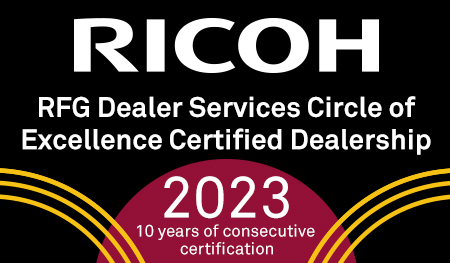 RFG Circle of Excellence
Our technology partners have recognized the EBP difference. We've been named a Ricoh Family Group Circle of Excellence Dealership for several years thanks to:
Our thorough training on hardware and solutions
The efficiency of our field staff and phone support
Our outstanding utilization of Ricoh's many resources
Our high level of customer satisfaction