Posted by eliguori@ebp-inc.com on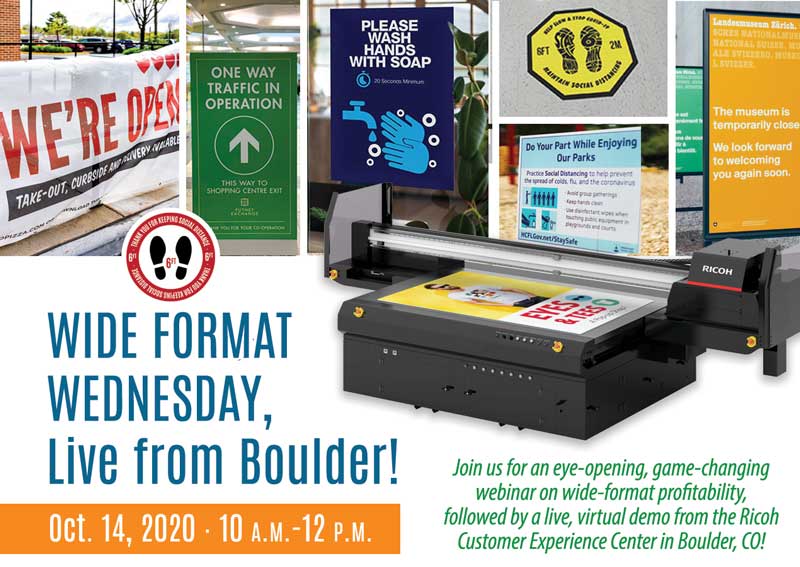 Join us for an eye-opening, game-changing webinar on Wide Format profitability, followed by a live virtual demo from the innovative Ricoh Customer Experience Center in Boulder, CO! All attendees will be entered into the live drawing for an iPad Pro, and the first 25 registered attendees will also receive a $25 Chipotle gift card! Click here to register. 
"If you have a business that can sell just 250 square feet/day - the equivalent of one hour's work - you have a business that could generate over $40,000 in revenue with a net profit of about 70% per month. That's almost $28,000 in net profit after your lease payment, ink and substrates and labor." = Dan Johansen, Ricoh Industrial Printing Group
Yes, you read that right. 
Learn more on Wed, Oct. 14th during EBP's virtual Wide Format Wednesday, Live from Boulder! featuring our "Maximizing Wide Format Profitability in the New Normal" webinar and a live, virtual demo from the Ricoh Customer Experience Center in Boulder, CO.
Already providing wide-format printing? We'll share some insights on how you can adapt and be proactive with your customers. Thinking now might be the right time to consider adding this technology? We'll show you how an educated, economic approach can guide you towards new heights in revenue and profits, and help chart a path of new business growth.
This 60-minute webcast with live Q&A will cover critical topics to help you understand and maximize the profitability of this revenue stream. You'll learn about:
Current and changing market trends in print buying
How to approach current and prospective customers
How wide-format printing offers the ideal solution to address the evolving needs of graphic communications in our new normal
Stick around after the webinar for a live virtual tour and demo of our full line of wide format printers from the Ricoh Customer Innovation Center in Boulder, CO.
The Customer Innovation Center is more than a showroom or demonstration center; the professionals running the center are print specialists who operate it as a fully operational print facility - ensuring that they can speak to your pain points and offer solutions. The EBP/Ricoh team will print samples, answer any questions you may have and raffle off some exciting prizes along the way.

Can't make it on the 14th? 
No problem! We can arrange a live, custom demo from Boulder at a time that works for you: Click here to schedule.